The Chicago Blackhawks announced several new hires to their hockey operations department on Monday morning, with Kendall Coyne Schofield most notably being added as a player development coach and youth hockey growth specialist. Coyne Schofield, a native of Palos Heights, Illinois, and graduate of Sandburg High School in Orland Park, is the first female player development coach in franchise history.
Former NHL forward Erik Condra was also hired as a player development coach along with Coyne Schofield. Chicago native Juan Gonzales was added as a strength and conditioning coach to the Rockford IceHogs, and Meghan Hunter was promoted from senior executive assistant to the vice president/GM and hockey operations to director of hockey administration and amateur scout.
We're thrilled to announce several new hires in the #Blackhawks Hockey Operations department!

▪️Kendall Coyne Schofield: Player Development Coach & Youth Hockey Growth Specialist

▪️Erik Condra: Player Development Coach

▪️Juan Gonzalez: @goicehogs Strength & Conditioning Coach pic.twitter.com/JNdogLlCqx

— Chicago Blackhawks (@NHLBlackhawks) November 23, 2020
"Adding talented people with diverse and multi-faceted backgrounds like Kendall, Erik, and Juan enhances our operations as we assess the changing landscape of hockey at all levels and continue to build and maintain a system of elite hockey," said Chicago Blackhawks senior vice president and general manager Stan Bowman. "Each of these individuals brings unique experience to their position, and we are excited to welcome them to the Blackhawks family."
Kendall Coyne Schofield
As a player, Coyne Schofield had quite the resume. During her collegiate career with Northwestern University, she earned the Patty Kazmaier Memorial Award as the top player in women's college hockey during the 2015-16 season after leading the country in goals, goals per game, points per game, shorthanded goals, and hat tricks. Coyne Schofield went on to become a six-time World Champion for the United States Women's National Ice Hockey Team and represented her country twice in the Olympic Winter Games. She helped the U.S. win a Gold Medal in Pyeongchang 2018 and a Silver Medal in Sochi 2014. In January of 2019, Coyne Schofield also became the first woman to compete in the National Hockey League's All-Star skills competitions.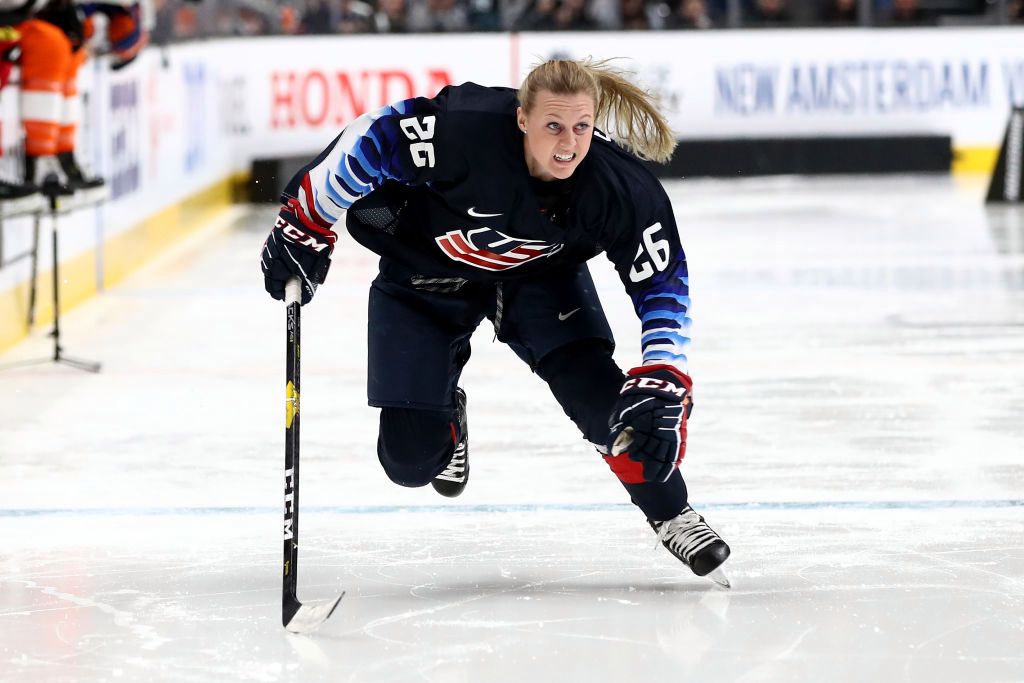 In her role as a development coach, Coyne Schofield will help evaluate and scout current/potential prospects for the Rockford IceHogs coaching staff by using her experiences as a successful player. As a youth hockey growth specialist, she will continue to do outstanding work with the Chicago community. Coyne Schofield will work specifically on the grassroots youth hockey programs and clinics, the implementation of girls' hockey programming, and her all-girls program "Golden Coynes."
Erik Condra
Condra was a seventh-round pick (211th overall) of the Ottawa Senators in the 2006 NHL Draft and went on to play in 372 regular-season games across 10 seasons for the Senators (2010-15), Tampa Bay Lightning (2015-17), and Dallas Stars (2018-19). He tallied 99 points (40 goals, 59 assists) in the regular season and added nine (three goals, six assists) in 26 playoff appearances as well. Condra also played in 361 American Hockey League games in his career with the Binghampton Senators, Syracuse Crunch, Texas Stars, and Colorado Eagles. The gritty forward tallied 247 points (88 goals, 159 assists) in the AHL and won the Calder Trophy in 2011 with Binghampton. Condra was the captain for Syracuse in 2017-18 and served as an alternate captain with both Dallas and Colorado.
Like Schofield, Condra will use his past as a player to help Rockford's staff assess and evaluate prospects. The 34-year-old Trenton, Michigan native was a leader and strong locker room presence throughout his career and will be respected by the young Blackhawks as a development coach.
Juan Gonzalez
Gonzalez is a certified strength and conditioning specialist through the National Strength and Conditioning Association and most recently served as a strength and conditioning advisor for the USA Hockey National Development Program. He worked mostly with the U-17 and U-18 teams by designing off-ice programs. Gonzalez is also a Chicago, Illinois native, and he earned his Bachelor of Exercise Science Degree from Loras College in Iowa.