It's hot stove time when it comes to baseball. The recent signings of Berríos and Syndergaard have some Cubs fans worried about what the front office is doing to solve the pitching woes. Jed Hoyer gave a press conference in October and talked about the Cubs' pitching. "We need to be able to miss bats. We did not strike out enough guys, and we walked too many. If you don't miss bats, you put too much pressure on the defense. We are actively developing that in the minors, and I feel good about that."
After an excellent season with the Reds, the Cubs signed a 35-year-old Wade Miley to a $10 million deal. However, his age means our long-term pitching still needs some improvement. Let's take a look at a few young Cubs pitchers ready to make an appearance in 2022.
Brailyn Márquez
Brailyn Márquez is a 22-year-old LHP who was signed in 2015 out of the Dominican Republic when he was just 16. He is currently our #2 ranked prospect, according to MLB.com. In 2021 he was sidelined with COVID and a subsequent shoulder strain, but he should be ready for the upcoming season. Jed Hoyer said, "He's healthy and throwing and ready to go." on October 11. Márquez only had one appearance in 2020 against the White Sox, where he struggled to get outs, giving up five earned runs and recording two outs. He features a 4-seam fastball between 97-100mph, a 90mph change-up, and an 85mph slider that is best when diving at the feet of a right-handed batter.
Caleb Kilian
Caleb Kilian is 24 years old and the #14 ranked prospect who the Cubs got from the Giants in the Kris Bryant trade. Kilian threw in the 2018 and 2019 College World Series with Texas Tech before he was drafted in the 8th round by San Francisco in 2019. In 15 starts between the Tennessee Smokies and Richmond Flying Squirrels at double-A, he went 4-4 with a WHIP of 0.992 to go with a 2.75 ERA in 78.2 innings pitched. Kilian is in the Arizona Fall League, where he earned AFL Pitcher of the Week between October 25th-30th. His fastball was consistently 94-96mph and even reached 98 once.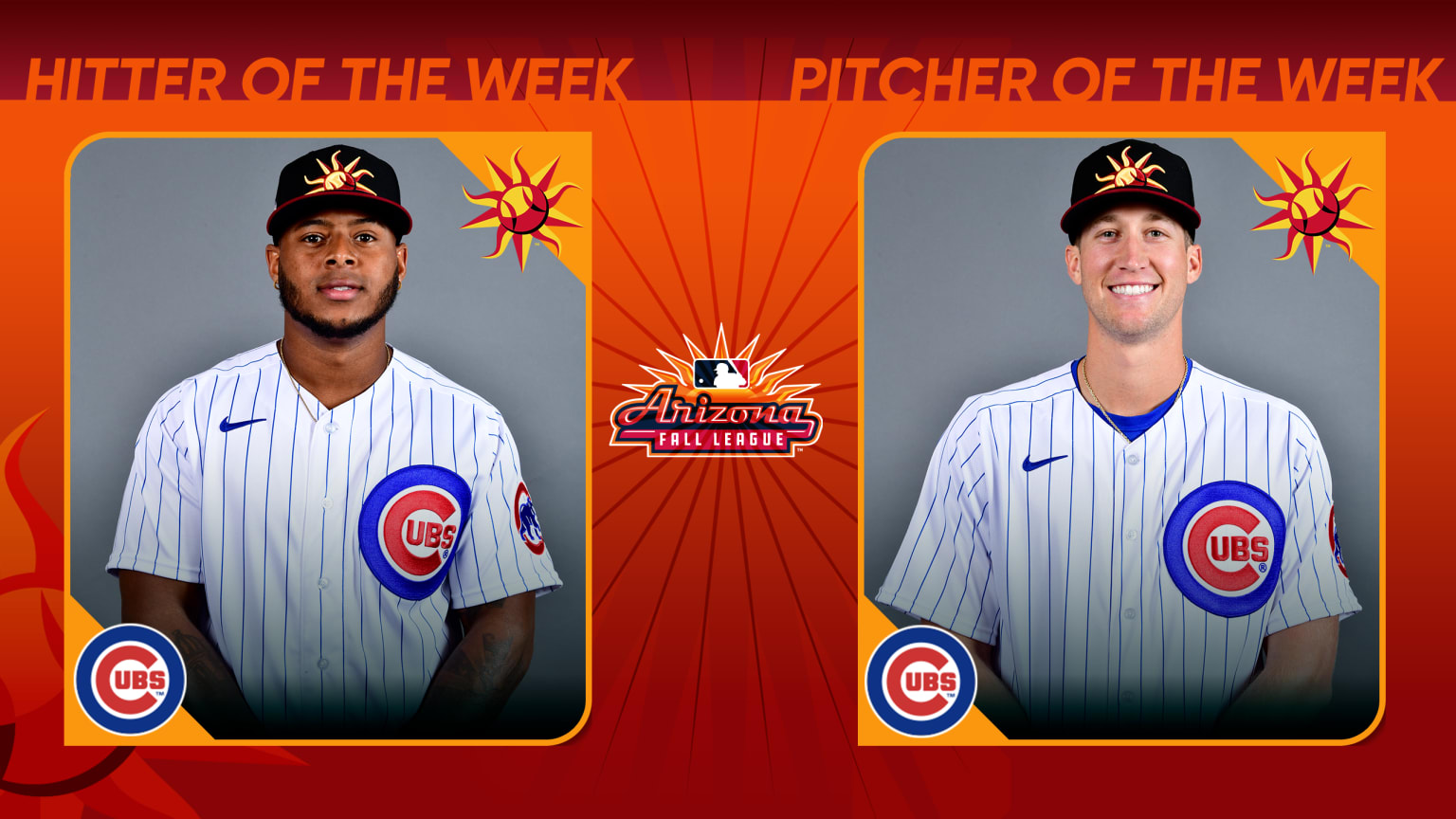 He also uses a cutter that is in the high-80s to low-90s, as well as a change-up and a curveball. He credited some of his success to some tweaks he's made to those two secondary pitches telling MLB.com's Jim Callis,
"I'm spiking now. It used to be a regular curveball, but this one seems to be a little sharper and a little faster too. I'm trying to get a better changeup going. It was pretty average this season. It's a circle change so I'm trying to get that perfected."
Continued success in the Fall League and upcoming Spring Training would result in Caleb Kilian pushing for the Cubs starting rotation in 2022.
Ryan Jensen
Ryan Jensen was the 1st round pick by the Cubs in 2019 out of Fresno State University. He is 23 years old and a right-handed starting pitcher, as well as our #15 prospect according to MLB.com. In 2021, Jensen began the year in South Bend before finishing at Double-A Tennessee. He started 20 games between the two levels, collecting a record of 3-7 with a 4.16 ERA but with a good WHIP of 1.088. He is currently in Mesa with the Fall League team, pitching to a 2-1 record in 4 starts. The ERA over nine and the WHIP over 2 need to come down before seeing him make the jump to the Major League roster. In addition, Jensen struggles to command his arsenal, consisting of a lively fastball, curveball, slider, and a change-up. The wildness has led to 12 walks in 18.1 innings pitched so far in the Fall League.

Alexander Vizcaíno
Alexander Vizcaíno was one player acquired from the Yankees in the Rizzo trade, the other being our #16 ranked prospect, OF Kevin Alcantara. Vizcaíno is a 24-year-old RHP and is our #19 ranked prospect according to MLB.com. Like Márquez, Vizcaíno is from the Dominican Republic originally. Unfortunately, he only pitched 13.2 innings in 6 appearances with South Bend after the trade, holding the opponents' batting average to .163 with a WHIP of 1.24.
Vizcaíno relies on three pitches, a fastball in the mid to high 90s (94-99), a change-up, and a slider. Scouting reports grade his fastball and change at 65, with his slider being a 45. Working on controlling this slider and elevating it to be an excellent strikeout pitch will help Vizcaíno develop into a middle-of-the-rotation starter for the Cubs moving forward. He could work in a middle relief role too, and hopefully, we will see him in 2022.
On August 12, Vizcaíno was part of a trio who no-hit the Ft. Wayne TinCaps. He threw two hitless innings in his 3rd appearance with South Bend. The highlights of his start are the first 40 seconds of the video, followed by Joe Nahas and Burl Carraway finishing up the game.
Riley Thompson
We can hope to see the final pitching prospect in the 2022 season is #28 ranked Riley Thompson. He was drafted in the 11th round by the Cubs out of Louisville (2018) but has struggled with injuries throughout his path to the Majors. He has not pitched since 2019 with the South Bend Cubs at single-A but pitched to an 8-6 record in 21 starts with a 3.06 ERA. His fastball reached as high as 97 in 2019, working in a good curveball and change-up, which you can see in the video below. At 25 years old, he is approaching his last few chances to make the Major League roster, and hopefully, his hard work will come to fruition this year.

The Cubs' first spring training game at Sloan Park is February 26, 2022. Spring will be our first look at how Márquez has progressed through his injury rehab and how we can expect to see him used in the upcoming season. It would be wonderful to see Vizcaíno get off to a good start and get some experience pitching against major league batters. Jensen, Kilian, and Thompson are reasons to pump the brakes on panicking this early into the offseason. It will be exciting to see how the home-grown talent looks in the spring after much emphasis has focused on improving pitching this off-season.