The Finals!
As I sit here writing this, the current time is 7:30 AM CST, and game two of part (what seems like) 45 Finals between the Cleveland Cavaliers and Golden State Warriors is upon us.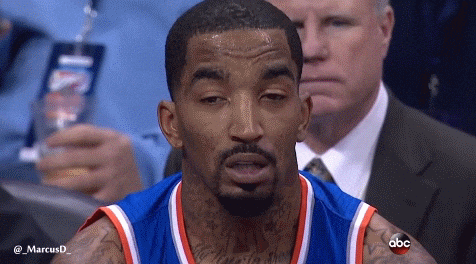 It seems everyone (even casual basketball fans) have their own opinion concerning this Finals 4-peat of inseparable foes. Some say it's exciting based on the sole fact that it is unprecedented.
While some may not even tune in because the narrative of Steph Curry and the Harlem Shakes vs. LeBron and the Chalk Tossers is simply played out. Others want to see if Kevin Durant will finally shake the traitor narrative and finally eat at the big table.
Finals Nostalgia
Seemingly not long ago (even though it was, unfortunately, fucking eons ago), the Bulls were quite literally in the Finals conversation every single year. Chicago fans were in heaven and anyone who wasn't could go (insert derogatory slang here). Let's face it, the Warriors, much like those Bulls, are here to stay. And while LeBron IS currently the world's greatest player, he has been playing basketball at the highest level for damn near half his life, and inevitably the mightiest will fall. Odds are, that happens before the Warriors are finished etching their story into the annals of NBA lore.
So, in sobering acknowledgment that the Bulls are far removed from the greatness we are witnessing in the Finals, we'll revisit those times once again. Not to compare, but to appreciate their greatness and possibly find some hidden facts that could make this broken record fun again.
The Goal
Getting down to brass tacks, Based on a myriad of factors, I will attempt to rank the six Bulls championship teams of the nineties.
Before you leave, this is not the same old song and dance based simply on record or Jordan's stats. We will look at opponents basic and advanced stats as well as Jordan's counterparts and their effectiveness. So for example, the 95-96 Bulls may not be the best simply because they went 72-10. Or, the 1992 version of Michael Jordan may not be the best simply because he scored more points (759) that postseason than any of his other Finals runs.
Perhaps, the '93 team that beat the Suns was best? Defeating a Sir Charles that boasted the most win shares in the playoffs and was coming off not only an MVP season but an Olympic run where he led the dream team in PPG. So with that being said, let's dig in.
1992 was an interesting, albeit, down year all things considered.
The Showtime Lakers were officially no more with Magic retiring. Which meant the Clippers finished with a better record than the Lakers for perhaps the first time in… ever. There was only one 60 win team in all the NBA, your Chicago Bulls. A total of 8 teams between the two conferences managed to make the playoffs with fewer than 50 wins. The mighty Pistons were officially mediocre, etc. etc..
Needless to say, the league was pretty weak.
Yet, somehow despite all this, a Bulls team that compiled a 67-15 record whilst capitalizing on said weaknesses managed to lose 7 games during the 1992 playoffs.
Sure they won it all, but ouch.
The overall record of their playoff opponents was a respectable 203-125 (.619%). However, they faced only two Hall of Famers en route to their second title. Those were, Patrick Ewing in the second round and of course Clyde Drexler in the Finals.
The Bulls 15 wins were by an average of 14.9 points. Highly respectable, but come on, it probably should have been higher.
1991- Michael Jordan, Scottie Pippen, and Phil Jackson… Party of 3. Your table is ready!
Let's preface this table setting by saying this title run was somewhat opposite of our previous subject.
Chicago's opponents had a worse overall record, 191-137 (.582%)
Chicago had a worse regular season record (61-21)
A lesser margin of victory (12.9)
The Difference
Chicago played a total of 7 future Hall of Famers
Playoff record was 15-2
Michael Jordan had a slash line of (31.2 / 6.6 / 11.4) while shooting 56% from the field– all greater than the '92 finals aside from PPG (41).
Chicago's offensive rebound percentage was greater by 5.1%
Offensive rating was significantly higher– 115.7 as compared to 110.8
#4 — 1997-98 (def.) Utah 4-2 in Finals
This is a tricky one.
'Five Thirty-Eight' claims this is the toughest challenge the Chicago Bulls ever faced in the Finals during the Jordan era.
I call bullshit.
The article I'm referencing is only accessible if you're a shmuck and pay for ESPN "Insider."
A shmuck like me.
If you'd like to read a drawn out boring piece of shit and dissect it for thirty minutes like I did… just email me. I'd be more than happy to give you my login.
Oh… and spoiler alert. 1993 was a mother fucker. Stay tuned for more on that.
Let's look at some comparisons…
1998 Playoff Leaders:
PTS: Michael Jordan (680)
TRB: Dennis Rodman (248)
AST: John Stockton (155)
WS: Michael Jordan (4.8)
1993 Playoff Leaders:
PTS: Michael Jordan (666)
TRB: Charles Barkley (326)
AST: Kevin Johnson (182)
WS: Charles Barkley (4.6)
So… there's that.
For you superstitious types out there, '93 Michael was working with the mark of the beast.
As for me, I can't say I'm superstitious. However, for all you 'Office" fans out there, I am a little "stitious."
Check in Sunday for Pt. Deaux