I started writing for Sports Mockery a little over a year ago and had no idea what to expect. I don't have a journalism degree from some prestigious school and prior to Sports Mockery, I had zero writing experience.
The owners took a chance on me, because despite the fact I'm not formally trained in sports writing, there are very few things that I'm more passionate about then Chicago sports. And since SM is a site "for the fan, by the fan", it was a match made in heaven (plus I'd like to think I know a thing or two about sports and am not your traditional "meatball" fan).
However, I'm a tad different then the traditional Chicago sports fan because I was born and raised in the great state of Iowa. People always ask me why I'm so obsessed with Chicago sports since I'm from Iowa and the answer is actually quite simple.
We don't have any professional sports teams to cheer for in Iowa.
So, since Chicago is only about two hours from my hometown, the Chicago teams were the ones that I grew up following.
Scratch that — obsessively following.
Where It All Began
I was three-years-old when the Bears won Super Bowl XX in 1986 and although I don't remember watching the game, I was raised to believe that the best running back in NFL history was Walter Payton and there was no other defense besides that of the '85 Bears. My first year living in Chicago was the same year the Bears made it to the Superbowl before being beat by the Indianapolis Colts (f*cking Rex Grossman.)
I was a pre-teen during the first of the Bulls three-peats and vividly remember watching all the championship celebrations at Grant Park. Watching Michael Jordan in his prime is something I didn't appreciate at the time, but looking at the current state of the NBA, I wish this generation of kids today could watch Mike play to see what real basketball looks like (not the "pussified version they know.)
I was only in Chicago four years before the Blackhawks won the Stanley Cup in 2010. Full disclosure — I never grew up watching hockey in Iowa. We didn't play it, watch it, or care about it so when I got to Chicago in 2006, Blackhawks hockey was something new to me. Little did I know that the same year I moved to Chicago, the Blackhawks would draft their future captain, Jonathan Toews and by 2010, they were a well-oiled machine. The 2010 team solidified my love for the Blackhawks… and I haven't stopped watching since.
So, when I was hired by Sports Mockery on March 31, 2016, I started writing about as many different things as I could. I dabbled in the Bears, touched on the Blackhawks and even wrote a few things on the Bulls.
I quickly realized that although I love all of those teams, my strength was writing about the Chicago team that I'm most passionate about — the Chicago Cubs.
My Grandpa Gus is the reason why I love the Cubs more than most human beings love anything.
He would watch every game religiously and since he lived right down the street from me, I'd walk to his house and watch the games with him. He'd give me his "unofficial" scouting report on every player and for the early part of my life I thought the Cubs shortstop was named "Goddamn Shawon Dunston."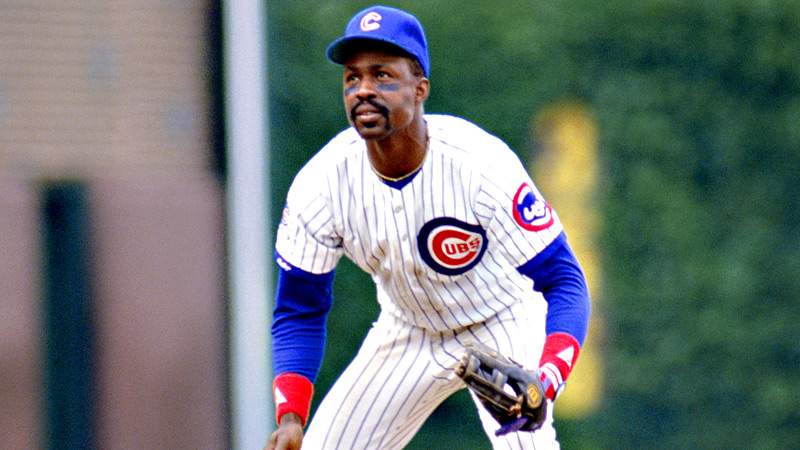 The 1989 Cubs were the first team I remember religiously following so when they lost the 1989 NLCS to the San Francisco Giants, my relationship with the Cubs was fully forged. To this day, I STILL hate Will Clark for what he did to my '89 Cubs.
Seriously, I do.
From the age of 5 to 18, my Dad and I would drive into Chicago one time each summer and watch a Cubs game. I'll never forget the two and half hour drive from Iowa to Wrigley Field and how excited I would get when I started to see "tall buildings" coming in off I-88. Once I got to Wrigley for the first time, I fell in love.
If you're not a Cubs fan, it's hard to explain the level of love that most fans have for the team. They're generational in a sense and you become so invested in them that when things go wrong, you literally get emotional about it.
To this day, I still can't watch what happens after Steve Bartman touches the ball in Game 6 of the 2003 NLCS. I know Alex Gonzalez boots a sure fire double-play ball and the floodgates opened for the Marlins after that, but I physically can't sit down to watch the end of that game.
Hell, I still struggle watching Rajai Davis hit that home run even knowing the Cubs would comeback and win an unforgettable Game 7 of the World Series.
My Grandpa didn't warn me about things like this. He shared the countless tales of the team and always reassured me that one day they'd win it but never warned me that the team would become a part of me. He's the reason why I tattooed them on my body, spent thousands of dollars to watch them play, and collected every single piece of Cubs memorabilia that I could get my hands on.
Memorabilia that now hangs on the walls of my basement…
CONTINUE TO SEE MY MECCA OF CHICAGO SPORTS