The Blackhawks head into Wednesday's opening of free agency with the rebuild on their mind. With that being said, they are still in need of multiple players to fill out their opening day roster.
The situation is fluid, but let's look at the team's signings so far.
Max Domi – 1 year $3 Million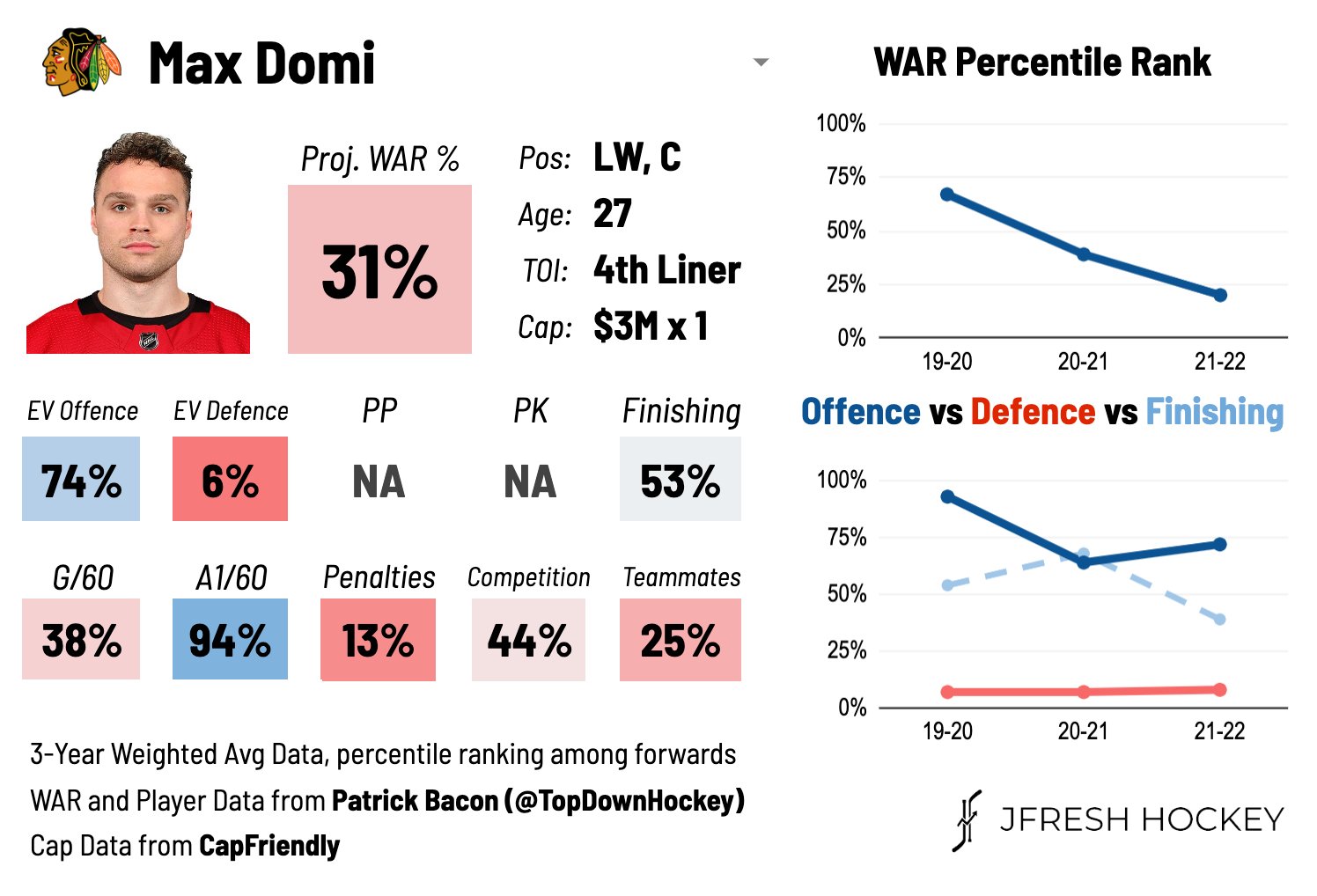 Max Domi joins the Hawks on a one-year deal worth $3 million AAV. Domi spent the last two years with the Columbus Blue Jackets, playing 107 games along the way.
He posted 56 points over two seasons, with 18 goals and 38 assists.
Domi was involved in a three-team trade that saw him being dealt to the cup-contending Carolina Hurricanes at the 2022 trade deadline.
He played 19 regular season games for them but only had seven points during his tenure.
He showed up during his 14 playoff games with the team, most notably scoring two goals in their game seven that eliminated the Boston Bruins.
Max, son of NHL legend Tie Domi, is much like his father in terms of the physical aspect of the game. He is a freight train on the ice and loves antagonizing his opponents.
Blackhawks fans may remember his run-in with defenseman Connor Murphy last season. Let's hope differences can be put aside.
Domi will likely play 2nd or 3rd line minutes for the Hawks.
The signing doesn't exactly make sense in regards to the direction of the team, but there is little to no risk with a one-year deal.
Domi may be used as a trade piece when the 2023 trade deadline comes around.
MAX DOMI IS ON 🔥

HE'S GOT TWO GOALS #StanleyCup pic.twitter.com/saEpF6Lv4I

— B/R Open Ice (@BR_OpenIce) May 14, 2022
Andreas Athanasiou – 1 year $3 million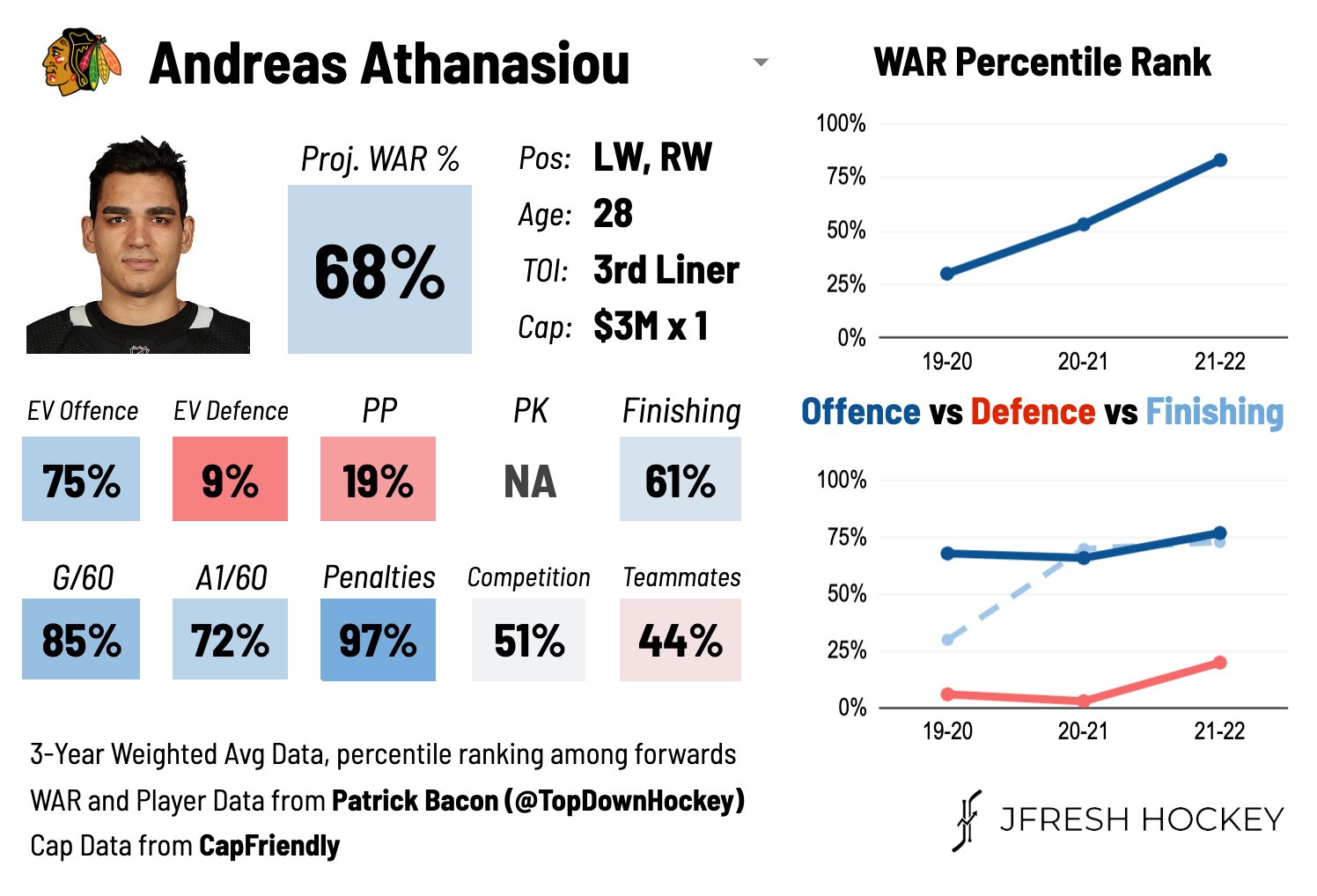 Athanasiou joins the Blackhawks with the same deal that was given to Domi.
Blackhawks fans should be familiar with Athanasiou, as he spent five seasons with Detroit from 2015-2020.
He most recently spent two years with the LA Kings, playing 75 games and posting 40 points during his tenure.
The 27-year-old winger is widely known for his blazing speed, which competes with the best around the NHL. He can play center as well.
Athanasiou is the type of player that thrives in an aggressive, up-tempo system. Like the system Head Coach, Luke Richardson, looks to implement in his first year at the helm.
I expect him to play similar minutes to Domi on the second and third lines.
Like Domi, this one-year deal is a head-scratcher but comes with little risk. I could see him being dealt at the 2023 trade deadline as well.
Andreas Athanasiou (@AndreasA86) is just gonna go for a little walk. pic.twitter.com/DauU3dndqT

— NHL (@NHL) March 9, 2021
Alex Stalock – 1 year $775k
Veteran goaltender Alex Stalock joins the Blackhawks on a one-year deal worth $750K.
The 34-year-old goalie comes in with a low salary that hints toward a situation that may find him splitting time with the Hawks and Rockford Ice Hogs.
Stalock has spent the last ten seasons appearing in 152 NHL games for the San Jose Sharks and Minnesota Wild organizations.
He was most recently in the Sharks organization, appearing in 12 games for their AHL affiliate in the 2021-22 season.
His career numbers have him at a .908 save percentage and a goals against average of 2.64. He is a career backup but has shown he can handle an NHL workload.
At this moment, Stalock will be the backup goaltender to the newly acquired Petr Mrazek. His last season was injury prone, so expect a fluid rotation of goalies throughout the season.
There have been rumblings of the team possibly re-signing Kevin Lankinen, but no updates have been provided as of late.
UPDATE:
Colin Blackwell – 2 years $2.4 Million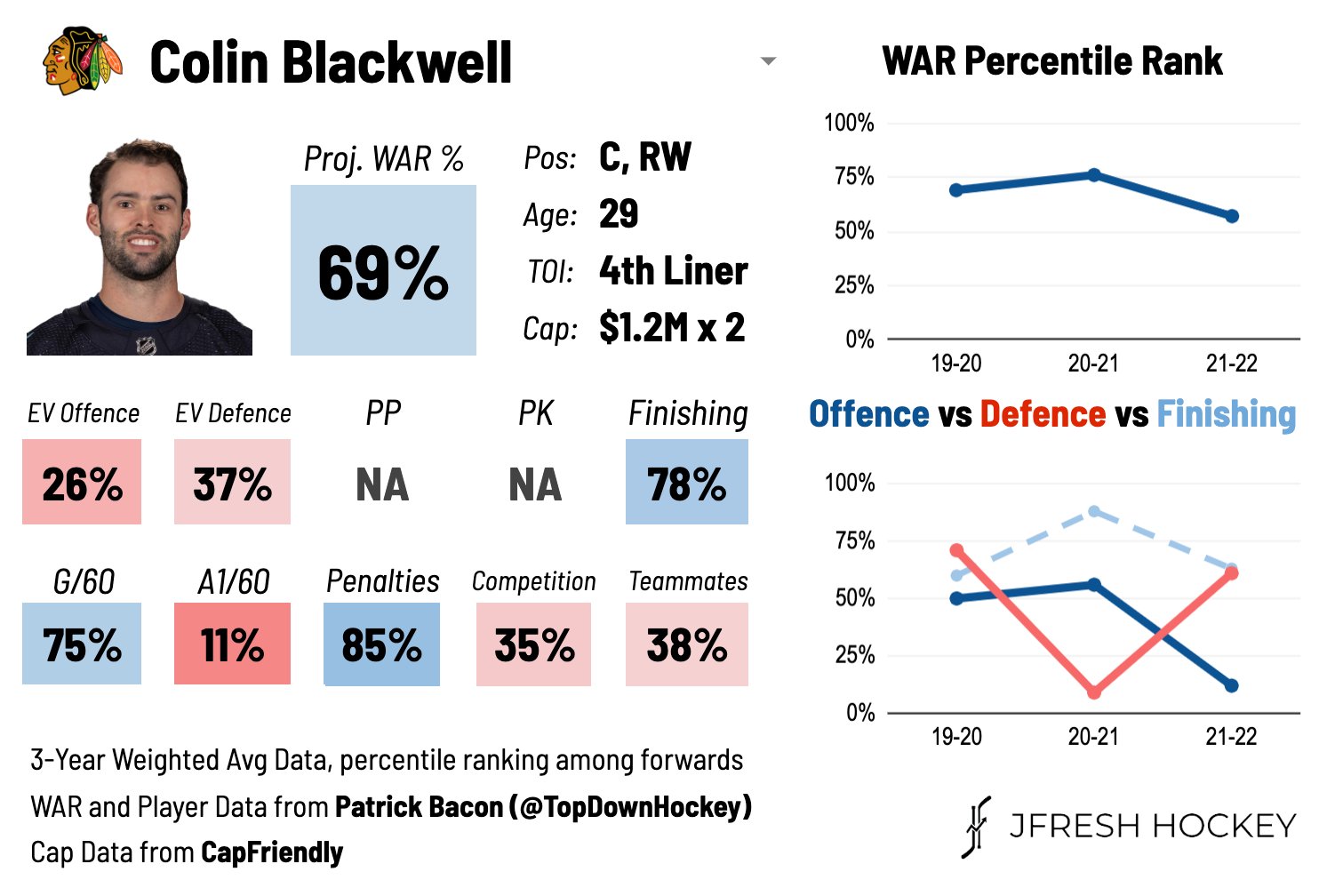 Colin Blackwell is the latest addition via free agency, signing on for two years with an AAV of $1.2 Million.
The 5′ 9″ forward has played 138 career NHL games across five seasons with Nashville, New York, Seattle, and Toronto. His 52 career points are spread almost evenly, with 25 goals and 27 assists.
Blackwell was brought into Toronto last year to reinvigorate the forward to his days as a Ranger.
It didn't work out as he spent most of the season as a scratch, only appearing in 19 games.
Although he has faced numerous injuries, the offensive-minded centerman will bring a complementary scoring touch to the bottom-six forward group.
The former 7th-round pick was named alternate captain to the bronze medal-winning USA team in the 2020-21 IIHF World Championship. He scored four goals in ten games, including a game-winner.
As I mentioned before, the free agent situation is fluid. We are only a little over one hour into the frenzy so expect more to come throughout the day.
Updates to follow.